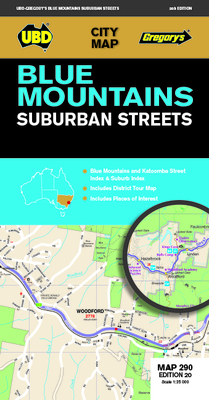 $10.99
AUD
Category: MAPS
The latest edition of the Blue Mountains street map has been fully revised and updated and includes. Blue Mountains district touring map at a scale of 1:160 000 from Hampton in the west, Lithgow in the north, Penrith in the east and Jenolan Caves and Warragamba in the south. Street directory style map ping at a scale of 1:25 000 covering along the Great Western Highway from Mount Victoria in the west, along Hawkesbury Road to Hawkesbury Heights in the north and then to the Western Motorway and Nepean River in the east. Also included are a Suburbs and localities index, street index & selected places of interest. This size of this map makes it a  handy alternative to the street directory. ...Show more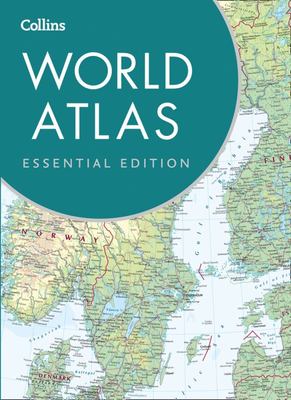 $24.99
AUD
Category: MAPS | Series: Collins World Atlas Ser.
Key statistics, facts and flags for every country of the world are included in the introductory section giving the user quick access to essential facts. These are supplemented by internet links to the most appropriate websites which provide opportunities for the reader to investigate issues further. Sev eral world ranking tables are given, including highest mountains, deepest lakes and largest countries, making this atlas ideal for quizzes and crosswords. With over 36,000 place names, this atlas gives the user a detailed reference map with extensive worldwide coverage at a great price. ...Show more
$39.99
AUD
Category: TRAVEL & PICTORIAL
From lap pools to ocean pools, harbour pools to waterfalls, Sydney is arguably the best major city in Australia for swimming, if not the world! And Places We Swim in Sydney covers the very best of the city's famous and hidden swimming spots. After the success of their first book, Places We Swim, author s Caroline Clements and Dillon Seitchik-Reardon have followed up with a deep dive into Sydney in this ultimate city guide to the aqueous outdoors. Places We Swim in Sydney is divided into six city regions, encompassing walks and swims within two hours of the CBD - from Manly in the north, to Maroubra in the east, Royal National Park in the south, and out to the Blue Mountains in the west. You'll discover just what makes each swimming spot unique, learn the best time to go, gain some useful local knowledge and find out the most delicious things to eat nearby. With destinations ranging from neighbourhood city pools to gorges that feel like the outback, Places We Swim in Sydney is a celebration of not just these magnificent swimming locations, but of the diverse landscapes and water-loving communities that make up Sydney.   ...Show more
$34.99
AUD
Category: TRAVEL & PICTORIAL | Series: 9th edition
The Complete Motoring Atlas 9th edition is an excellent all-purpose motoring atlas, wherever you want to go throughout Australia. The 116 regional town maps are what really sets this atlas apart, and the marking of the visitor information centre locations helps the traveller access lots of vital informa tion once they hit town. For those wanting touring advice, city, state and Australia wide information is provided, as well as inter-city routes. Distance and fuel consumption charts are a great help when planning your journey, and ensure there are no unexpected 'stops' along the way. The attractive maps are clearly laid out and easy to read, and the comprehensive index makes it a breeze to find the location you are looking for. ...Show more
$45.99
AUD
Category: MAPS
The latest edition of the New South Wales state street directory the 20th edition has been fully revised & updated.  This directory is your ideal companion and a very handy reference tool for both locals living in the towns featured in the directory or for travellers navigating around New South Wal es, the new edition has over 130 town maps covering from Tweed Heads in the north to Eden in the south and from Broken Hill in the west to Byron Bay in the east  and includes Albury Wodonga, Bathurst,Cessnock, Dubbo, Griffith, Kiama, Lennox Head, Mudgee, Narooma, Orange, Port Macquarie, Tocumwal, Uralla, Wagga Wagga and Yass. Each town also includes local information plus an index to streets. As well as these town maps there are 63 state and regional maps with an index to the towns featured on these maps.   ...Show more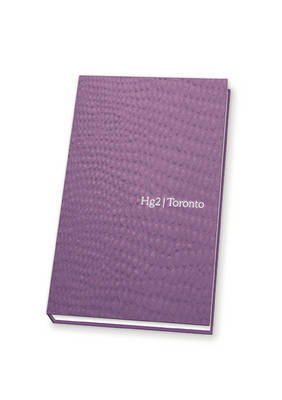 $9.99
AUD
Category: TRAVEL & PICTORIAL | Series: A Hedonist's Guide to...
Still evolving and fostering its identity, Canada's financial powerhouse hovers between being seriously conservative and wildly liberal (ie. you can't drink on the street, but both men and women can walk about topless - ) With its shiny skyscrapers, picturesque Old Town and bravely futuristic architectu re, Toronto is cosmopolitan yet unpretentious, both diverse and unique. It's also a thriving cultural hub: 'T.O' hosts a renowned International Film Festival, has the third largest theatre district in the world and is lousy with fabulous art galleries. Nightlife runs the gamut from kick back and relax to kick up your heels glamour, and a wide spectrum of restaurants follow suit. One in every two people living here was born outside of Canada, resulting in a cultural mosaic. So good news gourmands: Toronto is your global buffet. ...Show more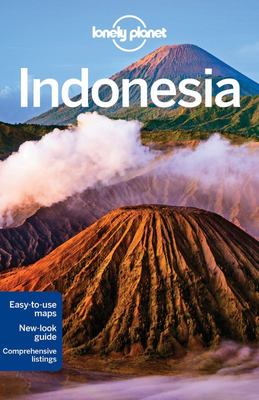 $39.99
AUD
Category: TRAVEL & PICTORIAL | Series: Travel Guide Ser.
#1 best-selling guide to Indonesia* Lonely Planet Indonesia is your passport to the most relevant, up-to-date advice on what to see and skip, and what hidden discoveries await you. Take in a traditional gamelan performance, laze on hidden beaches, or hike volcanic peaks; all with your trusted travel co mpanion. Get to the heart of Indonesia and begin your journey now Inside Lonely Planet Indonesia Travel Guide: Colour maps and images throughout Highlights and itineraries help you tailor your trip to your personal needs and interests Insider tips to save time and money and get around like a local, avoiding crowds and trouble spots Essential info at your fingertips - hours of operation, phone numbers, websites, transit tips, prices Honest reviews for all budgets - eating, sleeping, sight-seeing, going out, shopping, hidden gems that most guidebooks miss Cultural insights give you a richer, more rewarding travel experience - history, cuisine, environment, outdoor activities, responsible travel and more Over 60 maps Covers Java, Bali, Nusa Tenggara, Maluku, Papua, Sumatra, Kalimantan, Sulawesi and more The Perfect Choice: Lonely Planet Indonesia, our most comprehensive guide to Indonesia, is perfect for both exploring top sights and taking roads less travelled. Looking for a guide focused on Bali or Lombok? Check out Lonely Planet Bali & Lombok for a comprehensive look at all these islands have to offer; or Pocket Bali, a handy-sized guide focused on the can't-miss sights for a quick trip. Authors: Written and researched by Lonely Planet. About Lonely Planet: Since 1973, Lonely Planet has become the world's leading travel media company with guidebooks to every destination, an award-winning website, mobile and digital travel products, and a dedicated traveller community. Lonely Planet covers must-see spots but also enables curious travellers to get off beaten paths to understand more of the culture of the places in which they find themselves. *Source: Nielsen BookScan. Australia, UK and USA ...Show more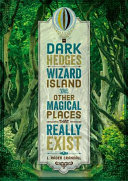 $29.99
AUD
Category: TRAVEL & PICTORIAL
From a lost city in the desert to a cave alight with thousands of glowworms, learn about some of the most unusual places on earth and the myths, legends, and history behind each of them   Looking at places like The Skeleton Coast in Namibia, Wizard Island in the United States, and The Fairy Tale Rout e in Germany, The Dark Hedges and Other Magical Places that Really Exist takes young readers on a journey around the world to real places that sound straight out of fantasy. Featuring both natural and man-made wonders, this travel book combines history and storytelling to explore the far reaches of the earth. ...Show more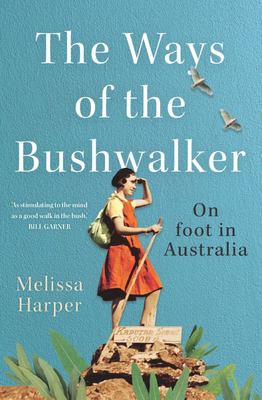 $34.99
AUD
Category: TRAVEL & PICTORIAL
Australians have always loved to step out in nature, whether off-track or along a marked route. Bushwalking – an organised long-distance walk in rugged terrain that requires maps and camping equipment, or a family day out – is one of our most popular pastimes. This landmark book, now updated, was the fi rst to delve into its rich and sometimes quirky history. From the earliest days of European settlement, colonists found pleasure in leisurely strolls through the bush, collecting flowers, sketching, bird watching and picnicking. Yet over time, walking for the sake of walking became the dominant motive. Walking clubs proliferated, railways organised mystery hikes attended by thousands, and Paddy Pallin established his equipment business. Bushwalking – serious walking – was invented. Whether you are inclined to put on your walking boots and pack your sleeping bag, or would rather stay in a luxury hut, this sure-footed and witty book reveals how the ordinary act of walking can become extraordinary. 'An absorbing exploration of the story of bushwalking in Australia. It's a well researched history, not just of walking, but of our changing relationship to the natural environment, of coming to know its unique beauty and its power to both inspire and restore the body and spirit. A compelling read for anyone who loves the Australian bush.' — Patti Miller '...a splendid social history, one so entertaining and revealing that you wonder why it hasn't been done before.' — Amanda Lohrey 'Slip this book in your swag – and step into adventure.' — Tom Griffiths   ...Show more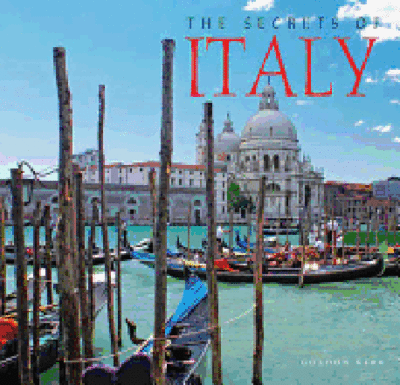 $29.99
AUD
Category: TRAVEL & PICTORIAL | Series: The Secrets Series
Italy is one of the most popular tourist destinations in the world. From the breathtaking countryside of Tuscany and the majestic monuments of Rome to the ancient beauty of Venice's floating buildings, the stunning appeal of Italy tempts the hearts of even the most entrenched armchair traveller. This be autiful new book, part of Flame Tree's immensely successful "Secrets" series, covers all of the major cities and regions, but also reveals the gorgeous alleys and churches, the little farmhouses, the tiny shops and picturesque villages that create the impression of ageless grace. The glorious panoramic photography is accompanied by evocative text. ...Show more
$9.99
AUD
Category: TRAVEL & PICTORIAL | Series: A Hedonist's Guide to...
Hg2 moves to Sydney exploring its dazzling array of hotels, restaurants, bars, clubs, shops, sights and spas. As ever we go incognito to uncover the most interesting places to visit - taking readers off the tourist track and showing them where the locals really hang out. Hg2 Sydney is intelligent, irrev erent and inspired. ...Show more