$17.99
AUD
Category: GRAPHIC NOVEL | Series: Dog Man
A brand-new graphic novel series by Dav Pilkey, the internationally bestselling author and illustrator of the DOG MAN and CAPTAIN UNDERPANTS series. Welcome to the Cat Kid Comic Club, where Li'l Petey (LP), Flippy, and Molly introduce twenty-one rambunctious, funny, and talented baby frogs to the art of comic making. As the story unwinds with mishaps and hilarity, readers get to see the progress, mistakes, and improvements that come with practice and persistence. Squid Kid and Katydid, Baby Frog Squad, Gorilla Cheese Sandwich, and Birds Flowers Tree: A Haiku Photo Comic are just some of the mini-comics that are included as stories-within-the-story, each done in a different style, utilizing humour and drama, prose and poetry, illustrated in different media including acrylics, pastels, coloured pencils, felt-tip markers, clay, hand-made cardboard sculptures, photographs, pipe cleaners, construction paper collages, and cookies. Readers of all ages will be inspired to dream up their own stories and unleash their own creativity as they dive into this pioneering graphic novel adventure from Dav Pilkey and his heartfelt, humorous, and amazing cast of characters in the Cat Kid Comic Club. ...Show more
$19.99
AUD
Category: GRAPHIC NOVEL | Series: Adventures of Tintin
This new format, crafted specifically for younger readers, features the original Tintin graphic novel plus brand-new content. Go "behind the scenes" with the true story about people, places and antiquities that Herg drew from, filled with fun facts, lots of pictures, and easy-to-read text In this advent ure: Tintin comes to the U.S.A. to clean up the mean streets of Chicago but ends up in the wild west Will Tintin make it back home? ...Show more
$19.99
AUD
Category: GRAPHIC NOVEL | Series: Adventures of Tintin
When opera star Bianca Castafiore is arrested on a visit to South America, Tintin and his friends come to her rescue.
Eric
by Shaun Tan
$19.99
AUD
Category: GRAPHIC NOVEL
Eric is effortlessly charming and eternally curious - a house guest whose approach to the world will capture your heart. This is a stand-alone picture book of one of the most loved stories from Shaun Tan's bestselling, internationally acclaimed collection of illustrated short stories, Tales from Outer S uburbia. ...Show more
$24.99
AUD
Category: GRAPHIC NOVEL
Witches are real, and they are very, very dangerous. They wear ordinary clothes and have ordinary jobs, living in ordinary towns all across the world-and there's nothing they despise more than children. When an eight-year-old boy and his grandmother come face-to-face with the Grand High Witch herself, t hey may be the only ones who can stop the witches' latest plot to stamp out every last child in the country! This full-colour graphic novel edition of Roald Dahl's The Witches, adapted and illustrated by Eisner Award winner Penelope Bagieu, is the first-ever Dahl story to appear in this format. ...Show more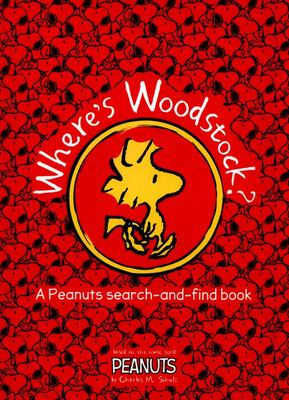 $4.99
AUD
$14.99
(66% off)
Category: GRAPHIC NOVEL
Children will love Where's Woodstock?, a hilarious Peanuts search-and-find book. There are tons of things for children to look for - from the arrival of the Great Pumpkin, to a trip into space. With eye-popping patterns galore and enough activities to keep children entertained for hours on end, this sea rch book is a great introduction to the characters of Peanuts. ...Show more
$14.99
AUD
Category: GRAPHIC NOVEL | Series: The Baby-Sitters Club Graphix
Kristy, Mary Anne, Claudia, and Stacey are best friends and founding members of The Baby-sitters Club. Whatever comes up -- cranky toddlers, huge dogs, scary neighbors, prank calls -- you can count on them to save the day. Baby-sitting isn't always easy, and neither is dealing with strict parents, new f amilies, fashion emergencies, and mysterious secrets. But no matter what, the BSC have what they need most: friendship.Raina Telgemeier, using the signature style featured in her acclaimed graphic novels Smile and Sisters, perfectly captures all the drama and humor of the original novel ...Show more
Ghosts
by Raina Telgemeier
$16.99
AUD
Category: GRAPHIC NOVEL
Catrina and her family are moving to the coast of Northern California because her little sister, Maya, is sick. Cat isn't happy about leaving her friends for Bahia de la Luna, but Maya has cystic fibrosis and will benefit from the cool, salty air that blows in from the sea. As the girls explore their ne w home, a neighbor lets them in on a secret: There are ghosts in Bah a de la Luna. Maya is determined to meet one, but Cat wants nothing to do with them. As the time of year when ghosts reunite with their loved ones approaches, Cat must figure out how to put aside her fears for her sister's sake -- and her own.Raina Telgemeier has masterfully created a moving and insightful story about the power of family and friendship, and how it gives us the courage to do what we never thought possible. ...Show more
$29.99
AUD
Category: GRAPHIC NOVEL | Series: Fullmetal Alchemist: Fullmetal Edition
Alchemy tore the Elric brothers' bodies apart. Can their bond make them whole again?   A hardcover, deluxe collector's edition of one of the most beloved manga and anime of all time Fully remastered with an updated translation and completely fresh lettering, and presented with color pages on large-tri mmed archival-quality paper, this gorgeous hardcover edition presents the timeless dark adventures of the Elric brothers as they were truly meant to be seen. Includes brand-new cover art, color inserts and behind-the-scenes character sketches from author Hiromu Arakawa   In an alchemical ritual gone wrong, Edward Elric lost his arm and his leg, and his brother Alphonse became nothing but a soul in a suit of armor. Equipped with mechanical "auto-mail" limbs, Edward becomes a state alchemist, seeking the one thing that can restore his and his brother's bodies...the legendary Philosopher's Stone. ...Show more
$19.99
AUD
Category: GRAPHIC NOVEL | Series: Adventures of Tintin
Hergé's classic comic book creation Tintin is one of the most iconic characters in children's books. These highly collectible editions of the original 24 adventures will delight Tintin fans old and new. Perfect for lovers of graphic novels, mysteries and historical adventures. The world's most famous t ravelling reporter faces the task of helping to protect a monarchy? Tintin travels to the Syldavia and uncovers a plot to dethrone King Muskar XII. But can he help the head of state before it's too late? The Adventures of Tintin are among the best books for readers aged 8 and up. Hergé (Georges Remi) was born in Brussels in 1907. Over the course of 54 years he completed over 20 titles in The Adventures of Tintin series, which is now considered to be one of the greatest, if not the greatest, comics series of all time.  Have you collected all 24 graphic novel adventures? Tintin in the Land of the Soviets Tintin in the Congo Tintin in America Tintin: Cigars of the Pharaoh Tintin: The Blue Lotus Tintin: The Broken Ear Tintin: The Black Island Tintin: King Ottakar's Sceptre Tintin: The Crab with the Golden Claws Tintin: The Shooting Star Tintin: The Secret of the Unicorn Tintin: Red Rackham's Treasure Tintin: The Seven Crystal Balls Tintin: Prisoners of the Sun Tintin: Land of Black Gold Tintin: Destination Moon Tintin: Explorers of the Moon Tintin: The Calculus Affair Tintin: The Red Sea Sharks Tintin in Tibet Tintin: The Castafiore Emerald Tintin: Flight 714 to Sydney The Adventures of Tintin and the Picaros Tintin and Alph-Art         ...Show more
$19.99
AUD
Category: GRAPHIC NOVEL | Series: Geronimo Stilton
Praise for The Sewer Rat Stink:"Fresh, funny, and fast-paced. The free-style artwork and anything-goes story will make kids want to write and draw their own books!" -Dav Pilkey A stinky smell is taking over New Mouse City! No mouse can live like this! Geronimo and his best friend Hercule, the private d etective, head underground into the sewer world of Mouse Island to investigate. Can they save the city from the stench? This is all-new Geronimo Stilton as interpreted by author, artist, and longtime fan Tom Angleberger. Tom is a New York Times, USA Today, and Wall Street Journal bestselling author. ...Show more
$14.99
AUD
Category: GRAPHIC NOVEL | Series: The Baby-Sitters Club Graphix
Stacey, a member of the Baby-sitters Club, struggles with her parents, who refuse to accept that she has diabetes, baby-sitting problems, and a rival baby-sitting club.